Eyebrow brushes are an essential tool for anyone who has to create a precise and defined brow. Whether you're in the beauty industry or just have an eye for detail, having the right eyebrow brush can make all the difference.
The best eyebrow brush is one that will work with your natural hair and skin tone, so you don't have to worry about it looking unnatural or unnatural-looking as soon as you try it on. You'll also want to choose a brush that isn't too big or too small—you want something manageable while still being able to cover all of your brow hairs without dragging them into your face.
There are many different types of eyebrow brushes available, and each one serves a different purpose. Queen brush offers a variety of eyebrow brushes to suit your needs. Their eyebrow brushes are made with the highest quality materials and craftsmanship, making them some of the best on the market. Here are some of our favorites:
Types of eyebrow brushes
1. Double-head eyebrow brush.
For this type of eyebrow brush, one head is an angled eyebrow brush(Synthetic hair) and the head is also an eyelash brush. This eyebrow brush also has a Metal ferrule and a wooden handle. You can customize the eyebrow brush with your LOGO. This shape is very popular amongst creatives and makeup art
2. Angled eyebrow brush: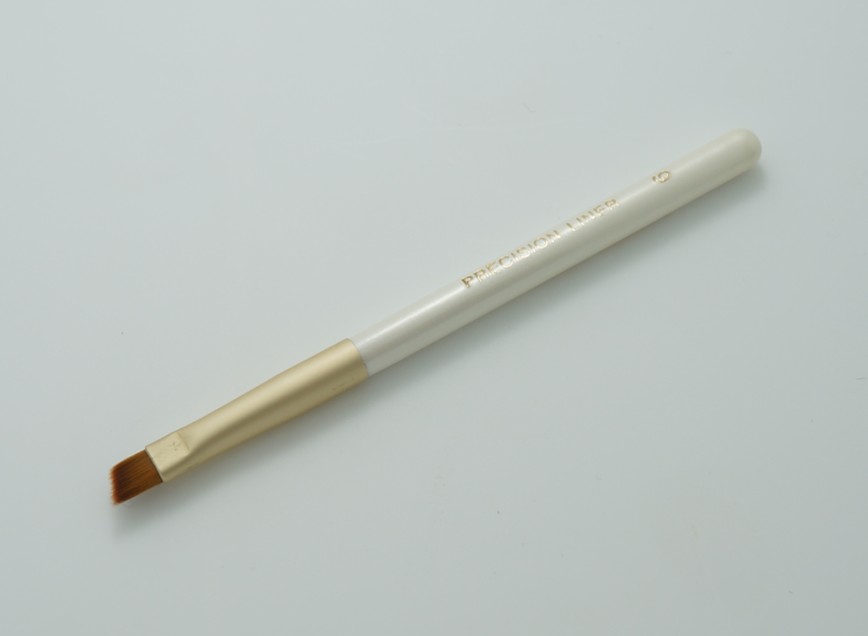 This type of eyebrow brush is perfect for creating precise, defined brows. The angled bristles help to fill in sparse areas and create a more polished look. This also comes with the option of a customized LOGO.
3. Spoolie brush:
A spoolie brush is essential for combing through brows and removing any excess product. This type of brush can also be used to tame unruly brows and keep them in place. It's made with synthetic bristles and it has a plastic handle. You can also choose to have your logo on the brush.
4. Powder eyebrow brush
This is manufactured with hard synthetic hair. It also comes with a metal ferrule and a wooden handle. Powder eyebrow brushes are used to apply powder products to brows. They can be used to create a soft, diffused look or a more defined look, depending on how much pressure is applied. It's made with synthetic hair and comes with a metal ferrule. This eyebrow brush has a wooden handle and your logo.
5. Pencil eyebrow brush
The features of this eyebrow brush are synthetic hair, metal ferrule, and a wooden handle. Pencil eyebrow brushes are used to apply pencil products to the brows. They can be used to create a soft, diffused look or a more defined look, depending on how much pressure is applied.
6. One head eyebrow brush
This eyebrow brush is made with synthetic hair. The handle can be made of these categories; metal or aluminum (this is cheaper) and copper(expensive). It also comes with a ferrule. You can decide to buy a one-head eyebrow brush with a wooden handle or a bamboo handle or a plastic handle; depending on your preference. Lots of customers are interested in this shape.
If you're looking for a quality eyebrow brush, Queen Brush is the way to go.
How to use your eyebrow brush?
Eyebrow brushes are used to apply eyebrow powder, so they're kind of like a makeup brush, but for your eyebrows. They come in different shapes and sizes, ours are made of hard synthetic hair or pig bristles. This is to enable you to determine the hardness of the bristles.
You can use just about any type of brush when applying eyebrow powder—it just depends on what shape you like best! If you're looking for a simple, inexpensive option, try going with a small-bristled brush. If you want something that feels more like an actual makeup brush, try one with soft bristles that give the slightest amount of tug when applied to the skin.
When using an eyebrow brush, start at the outer corner of your eye and work toward the inner corner. Then use short strokes in one direction across your brow (toward the middle) before turning around and doing it again in the opposite direction.
You can also use an eyebrow comb to help create a more defined look. To do this: first, use a light coat of eyebrow powder to fill in all areas where you want to define your brows; then comb through gently with an angled comb to smooth out any unevenness
How to choose the best type of eyebrow brush?
Getting the right eyebrow brush can be tricky. There are a lot of different brushes out there, and they come in all shapes and sizes. You have to look at the bristles and how they're shaped, what kind of shape they're designed to fit your eyebrows, and whether or not the handle is comfortable for your hand.
Eyebrow brushes are one of the most important products in your makeup arsenal. They can be used to create a range of different looks, from natural to dramatic, and they're also great for applying highlighters and brow powder. Here's what you need to know about choosing the best eyebrow brush for your needs:
1) Size matters. The size of your brush will determine how well it works with your hair and skin type, as well as its ability to pick up the product. If you want an angled brush that won't pull hairs out of place, look for one that has a small head (and keep an eye on the length of the handle).
2) Bristles matter. Fiber materials like synthetic fibers or pig bristles are ideal because they don't irritate your skin or cause breakouts. You can also determine how hard you want the bristles to be. At Queen Brush, we can help adjust the hardness of the synthetic bristles to give you the type you are looking for.
3) Get wet! Water-based products like gel will help keep bristles soft so they don't damage your skin or clog pores when applied over time (though this isn't necessary if you're only using them once).
Why You Should Choose Queen Eyebrow Brush?
The best eyebrow brush is the one you can depend on. That's why we're proud to offer our eyebrow brushes, which are designed with your skin in mind and will help you achieve the perfect look every time. We know how important it is to have a brow brush that's not only high-quality but also comfortable and easy to use.
As an eyebrow brush manufacturer, we offer a variety of eyebrow brush options to meet your needs.  Feel free to ask for a quote to learn about our MOQs, certificate, and delivery time.
We care about our customer's satisfaction with their purchases! That's why we'll work with you to make sure that your eyebrow brushes are of the best quality!