It is natural for women to look their best wherever they go. But searching for a beauty parlor whenever you travel can be challenging because you might not be comfortable with the hygiene maintenance and professional skills of different makeup artists. Therefore, carrying your makeup kit with you whenever you travel would be excellent. This article discusses the constituents of a travel makeup brush set and its benefits.
The Critical Aspects of a Travel Makeup Brush Set
As the name suggests, a travel makeup brush set should be convenient to carry along wherever you go. Therefore, it must have the minimum makeup accessories for a cosmetic makeup procedure. It need not include the entire repertoire of brushes you otherwise use at home. The primary idea is to have the requisite makeup tools readily available to make you look presentable at all times.
So a travel makeup brush set should have the following qualities.
It should contain sufficient brushes to cater to any emergent makeup requirement when you are on the move.
The set should be light and comfortable to carry.
It should be available with its unique travel case to help them remain intact and not come in touch with your clothes and other travel accessories.
The travel makeup brush set should consist of versatile and multiutility brushes, especially those that serve various purposes.
These brushes should be well-equipped to deal with different makeup products, including powder, gel, liquid, or creams.
The Professional Travel Makeup Brush Set – Its constituents
Ideally, a travel makeup brush set should include at least one brush for every essential makeup procedure. The reputed travel brush set manufacturers offer travel mini makeup brush sets with five to six brushes to cater to the most essential makeup requirement. Let us discuss the different makeup brushes in a 5 to 6 pcs travel makeup brush set.
a. Powder brushes
This travel makeup brush set contains powder makeup brushes of generally small sizes to apply powder and other makeup products seamlessly. These brushes have densely packed synthetic bristles to facilitate easy makeup applications. In addition, this set includes a dome-shaped or a spread-out bristle powder brush that can be used for varying purposes.
The high quality bristles are soft to ensure a smooth makeup application. The metal ferrule holds the bristles in place and does not allow them to shed with continuous usage. The medium-sized wooden handle is convenient to grip and provides excellent comfort and flexibility.
b. Shading brushes
Shading brushes are essential makeup tools because they allow your skin to get the perfect shades for every occasion. Since people have varying demands, the ideal travel makeup brush set offers excellent shading brush options. Usually, they include small shading brushes. Besides, the angled shading brush is also available to cater to specific areas like your eyebrows and nose lines.
c. Concealer brush
The secret to perfect makeup lies in concealing minor blemishes on your face, like acne or pimple marks, blackheads, or minor scars. Therefore, the concealer brush forms an essential ingredient in any makeup kit. Your travel makeup brush kit should also have one.
d. Blending brushes
A standard makeup procedure includes using multiple products, including powder, blush, liquids, creams, and gels. It also entails using different color shades for highlighting jawlines and cheekbones. Therefore a blending brush occupies a prime place in a travel makeup brush kit. It helps you touch up on your makeup and look immediately presentable.
Reputed travel makeup brush suppliers usually include a couple of blending brushes in the set to cater to multiple purposes. The brush size varies according to user preferences. For example, the tapered blending brush is perfect for blending makeup products on the cheekbones. Likewise, the eye blender is ideal for blending eyeshadow products and making your eyes look charming.
These blender brushes have slender wooden handles making it convenient to blend makeup products seamlessly over your face. The high-quality synthetic bristles are skin-friendly and suit all skin types. In addition, we ensure 100% hygiene when manufacturing these brushes.
e. Eye Brushes
Eye brushes are crucial to any makeup procedure because they beautify the most beautiful part of the face, your eyes. Therefore, travel makeup brush manufacturers include various eye brushes, including the eyeshadow blending brush, eyeline brush, eyelash, eyebrow brush, angled eyeshadow brush, and eye crease brush. Generally, the best travel makeup brush supplier offer double-sided 2-in-1 eyeliner brush.
f. Other brushes
Other brushes include the lip brush, the flat definer brush, the contour brush, and the small fan brush. All these brushes help apply quick makeup to your face and enhance your attraction quotient considerably, even while you are on the move.
Points to look for in a travel makeup brush set
Your travel mini makeup brush set differs from the standard makeup kit because flexibility and versatility are crucial when selecting travel makeup brushes. Besides being comfortable, these makeup brushes should be light and convenient. Therefore, these sets do not include traditional kabuki brushes or fancy powder brushes with prominent bristles. Such accessories occupy more space. So you should look for these features in a travel mini makeup brush set.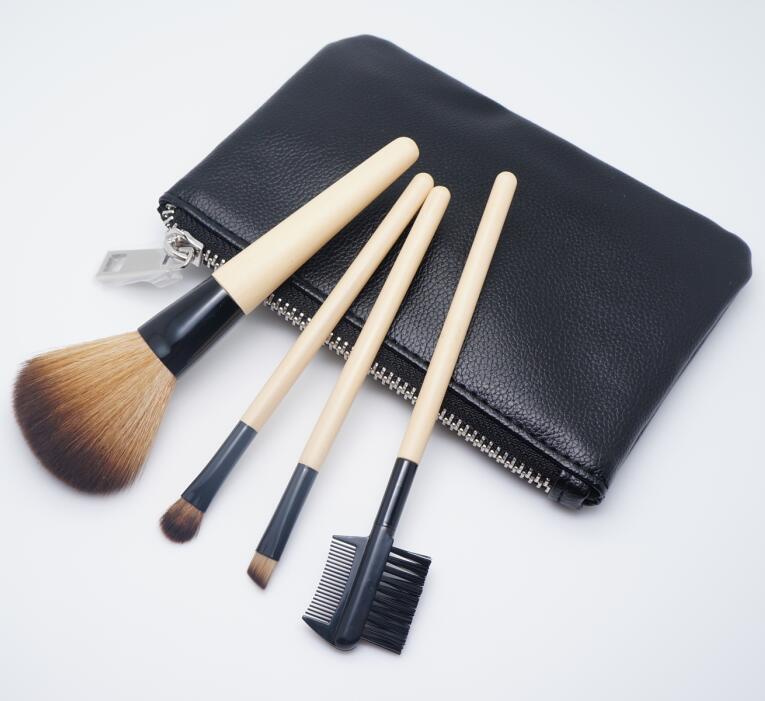 The set should include a range of brushes essential for a touch-up job.
It is usually small, about the size of your smartphone.
It is better to have multipurpose brushes because they save space while catering to multiple uses.
The lighter the brush, the better it is for your travel makeup brush kit.
The mini portable makeup brush set must have a sturdy and durable case to accommodate all brushes.
Call to Action
Queen Brush is among the reputed mini makeup brush manufacturers offering an extensive range of light and comfortable brushes to enhance your makeup while you are on the move. Our brushes are manufactured hygienically in our vast factory equipped with the latest facilities.
Besides ensuring excellent quality, we offer facilities like personalization where wholesale buyers can have their brand names embossed on the brush handles. We also offer customization, allowing buyers to customize their makeup brush designs according to user preferences.
We pack our portable makeup brushes in a compact case to ensure proper storage and handling. These features enable Queen Brush to qualify as the industry's preferred travel makeup brush supplier. So order your mini portable makeup brush set from us and equip your makeup kit to look presentable whenever you like it.