Just as any building construction requires a sturdy base, every successful makeup procedure depends on a solid foundation layer. So, foundation makeup brushes are the most useful of all makeup accessories. While you have various foundation brushes to cater to different situations, most people prefer the No 55 Magic Foundation Brush to provide the most robust makeup base. So, what is the No 55 Magic Foundation Brush, and how is it useful for a quality makeup procedure?
The No 55 Magic Foundation Brush
The No 55 Magic Foundation Brush is the largest makeup brush in your cosmetic arsenal. This product has a unique structure that distinguishes it from others.
This brush has a large brushing area diameter of 6cm, making it the most oversized makeup brush. However, it has an overall height of 4.3cm, making it one of the most convenient makeup accessories to carry wherever you go.
It is a multipurpose makeup brush that works with all makeup foundations, including powder, shadow liquid, foundation primer, liquid foundation, BB cream, and highlight liquids.
The rich, soft hair gives the brush a fluffy skin-like texture to deliver the most delicate touch without leaving any crease marks on your face. So, it ensures a seamlessly uniform foundation spread.
This brush has straight, synthetic bristles densely packed to provide a compact finish. Hence, this brush picks up less foundation and prevents excessive makeup application on the face.
This multi-utility brush has sharp corners at its ends to cater to the most challenging makeup tasks, such as detailing the nose and eyeliners.
The large surface area diameter of 6cm (60mm) ensures an effortless and quick makeup job without compromising on its efficiency.
Besides, the diamond-shaped handle with its ergonomically-designed grooves makes it the most convenient makeup brush. Hence, you get a flawless foundation every time you use this makeup accessory.
The No 55 Magic Foundation Brush comes packed in a unique transparent PVC box, simplifying its storage and portability.
Why the No 55 magic foundation brush?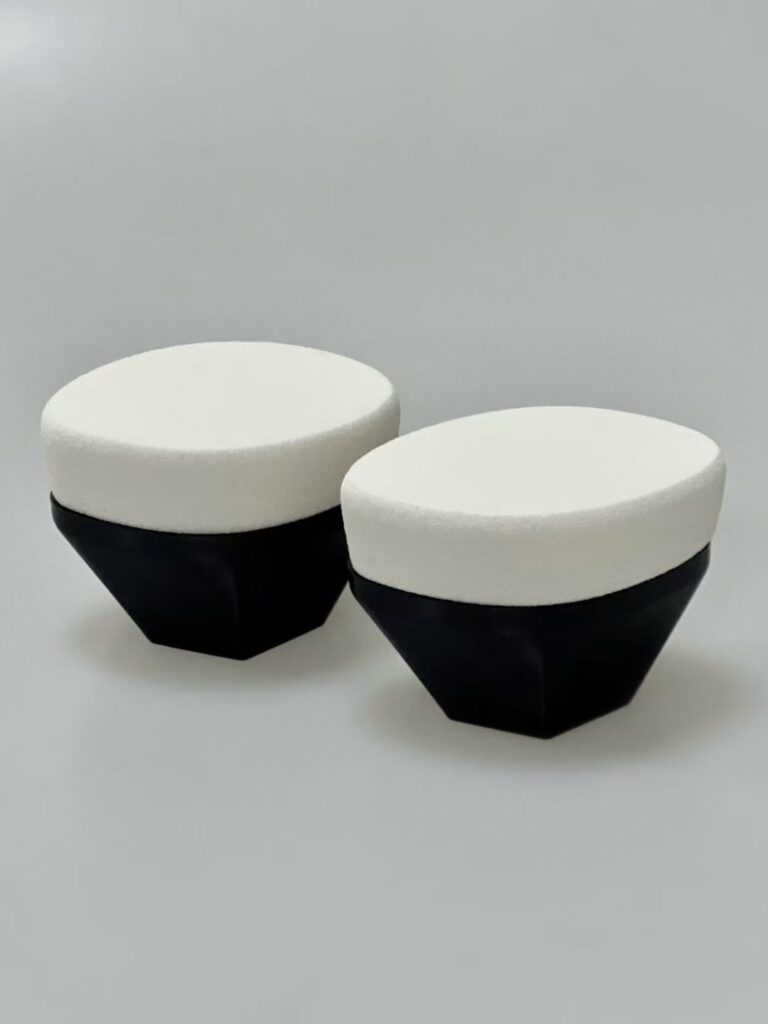 Compared to regular makeup brushes, the No 55 Foundation Brush has a sizeable brushing area with a diameter of 60 to 65mm. Hence, it ensures uniform makeup across the face. In addition, this brush makes it comfortable to stabilize excessive makeup applied on any facial part by spreading it smoothly to ensure blemish-less application.
Generally, the makeup kit contains multiple foundation brushes to cater to different areas of the face. For example, the foundation brush for applying blush on the cheeks differs from an eyeshadow foundation brush. However, the No 55 Foundation Brush serves multiple uses. This brush has comparatively sharper bristles at the corners to allow users to cater to hard-to-reach areas like the eyeliner and nose.
Regular makeup brushes feature long wooden or plastic handles to allow excellent flexibility. The No 55 Foundation Brush is different because it has a compact diamond-shaped plastic handle with grooves to place your fingers comfortably. Thus, you apply makeup effortlessly. In addition, the short handle allows users to get close to the mirror and see perfectly what they are doing.
The No 55 Foundation Magic Brush works with all foundations, including powders, creams, gels, and liquids. So, it qualifies as a multipurpose brush that can be used for all makeup procedures. Thus, this versatile accessory is an all-in-one makeup brush.
The No 55 Foundation Magic Brush does not have animal hair. So, it is a cruelty-free product. In addition, the synthetic fibers are softer and do not leave makeup streaks on the face. So, you get a blemish-less makeover to make you look gorgeous.
The large surface area of these brushes makes them convenient to clean. Moreover, it does not soak up any foundation as you move the brush around your face.
The fluffiness ensures they do not collect excessive foundation. In addition, it allows you to spread the cream or liquid foundation uniformly across your face. Thus, you save your makeup products from waste.
This brush is unique as it comes in customized PVC packaging, allowing users to maintain it separately from other makeup accessories. In addition, the PVC packing makes this makeup accessory convenient to carry in your makeup kit. So, you can use it anywhere to get a quick touch-up whenever necessary.
Advantages from the manufacturer's viewpoint
Regular makeup brushes have long handles with ferrules. On the other hand, the No 55 Foundation Brush does not have ferrules because the synthetic fibers are attached directly to the ergonomically-designed handles. Therefore, the manufacturing process is comparatively easier.
This brush does not require wooden handles or animal hair. So, there is no question of animal cruelty or environmental damage. Besides, the high-quality plastic handles are recyclable. So, this brush qualifies as an environmentally-friendly product.
The advantage of using synthetic hairs is that manufacturers can pack them more densely and make the final product fluffier and gentle to use. Users can run their fingers through the bristles to understand how soft they can be on the skin.
The exciting feature of this brush is that it has firmer bristles at the corners (edges) that allow users to maneuver it across hard-to-reach places like the eyeliners, eyeshadows, the nose line below the eyes, and the areas above the upper lip. In addition, it allows manufacturers to be flexible with their bristles and use different kinds of fibers to cater to this requirement.
Buyers can customize their requirements and stipulate different sizes for the strands or the surface area. The ideal measurements are 60 to 65mm surface area, with bristles measuring around 18 to 20mm in height. However, we can cater to specialized requirements and alter the product accordingly.
Buyers can benefit from purchasing the No 55 Magic Foundation Brush because this makeup accessory can handle multiple responsibilities simultaneously.
Call to Action
While we offer an exquisite range of foundation brushes, the No 55 Magic Foundation Brush has a unique place in our product list. Buyers can place their bulk orders for this product and allow sufficient time for us to procure the raw materials and manufacture the makeup accessory to suit all user requirements.
To learn more about the No. 55 magic foundation brush, please refer to the following link.