A perfect makeup procedure is not restricted to your face alone. It includes your manicures and pedicures that all combine to give you an absolutely gorgeous look. While you have an exciting range of makeup accessories and products for your facial cosmetics, different nail art brush types are available to give you a stunning manicure. Each of these nail art brushes has its unique functions. This article discussed the various nail art brush types and their functions.
Different types of nail art brushes
Nail art is a beautiful process that requires tremendous skill. You need different nail art brushes to sketch the most beautiful designs on your nails and enhance your overall attraction quotient. So let us learn the different nail art brushes that can help you get the most beautiful nail art designs.
Detail Brush
The detail brush is used for detailing nail art images and has short bristles and flat composition. You can use this brush to fill colors in your nail art designs and make them look beautiful. The short bristles ensure that the paint does not spread too much and damage your manicure. Depending on the designs you wish to detail, you have different detailer brushes.
Crooked Detailer Brush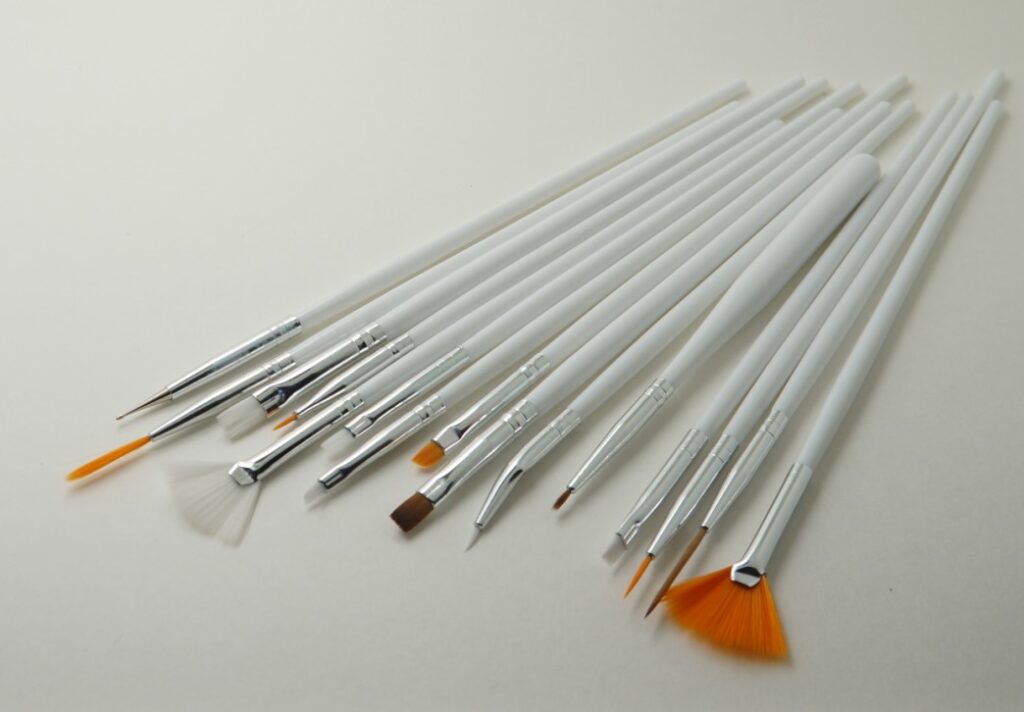 The crooked detailer brush resembles a detail brush but has an angular trip. Though it is a detailer brush, it is short in length and has round bristles. This brush functions as an outliner brush by enabling you to paint precise outliners. You can also use this brush to highlight specific colors and make your nails look more beautiful.
Petal Nail Art Brush
The petal nail art brush is another detailer brush that proves helpful in filling up colors on flower petal designs on your nails. Different types of petal nail art brushes are available to allow the painting of multiple flower designs on your nails. The best aspect of this nail art brush is that it can detail other designs. However, using this brush requires more remarkable skills.
Liner Brush
The liner brush is one of the most commonly used nail art brushes because it is perfect for outlining images and designs on your nails. This brush is short, and its bristles taper into a round point, making it convenient to sketch outlines without smudging the colors on your nails. Liner brushes with extended handles are also available, but the shorter brush allows for more precise detailing.
Striper Brush
The striper brush is a special liner brush that allows you to paint horizontal and vertical stripes. This brush has round-shaped bristles that are generally longer than a liner brush. This brush can draw thick and thin stripes according to your preferences. The longer bristles allow you to take more paint and sketch extended lines.
Stripette Brush
The stripette brush is a smaller version of the striper brush that can help draw shorter horizontal and vertical lines. It is similar to the striper brush but has comparatively shorter bristles. You can use this brush to paint shorter lines and save nail paint. They are helpful because some nail art designs require using shorter strokes.
Pointed Brush
The pointed brush has a slender endpoint like a liner brush. It is perfect for creating intricate dot-shaped designs on your nail artwork. The pointed tip lets you deposit the paint at a particular spot without spreading it across the nail.
Dotting tool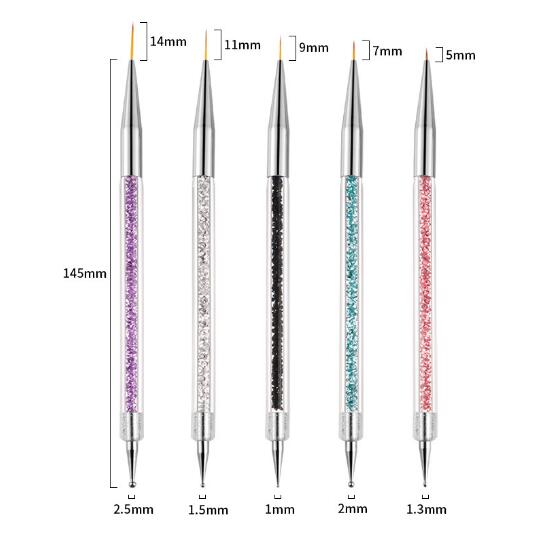 The dotting tool works like a pointed brush but has a thicker endpoint. Besides drawing beautiful polka dot designs, this brush can help mix colors and provide the marble effect to your nail art designs.
Square Brush
The square brush gets its name from the shape of its bristles. This brush has short square-shaped bristles, allowing you to create excellent marble designs, especially using different colors. In addition, the square shape lets you pick up differently colored gel polish drops and mix them to give a marbled effect to your nails.
Marbler Brush
While the square nail art brush is multipurpose, the marbler brush caters to specific marble designs alone. Therefore, it is best for use with gel paint. In addition, this brush has comparatively rounded bristles, allowing you to mix multiple colors and create beautiful marble designs.
Oval Brush
Like the square brush, the oval brush gets its name from its oval bristles. This brush is ideal for creating dry-brush effects and feather designs on your nails. It can also double up as a detailing brush to create simple stroke-like designs and enhance your nail's overall beauty. It is one of the best nail art brushes for achieving rough paint strokes.
Round Brush
The round brush is similar to the oval brush, but the bristles are more rounded. Hence, these brushes are excellent for achieving rough and smooth paint strokes. In addition, the round shape of the bristles allows you to spread nail color evenly across the design to ensure a perfect finish to your manicure.
Angled Brush
The round, square, and oval brushes are perfect for drawing straight shapes on your nails. However, the angled brush is preferable if your nail art design has an angled shape. This brush has flat and short bristles that prove ideal for sketching out detailed designs, similar to the crooked detailer brush.
Fan Brush
As the name suggests, the fan nail art brush has bristles spread like a fan. In addition, this brush has slender bristles that allow color mixing and provide gradient effects. As a result, this brush is one of the best for delivering an airbrushed design.
Feathering Brush
The feathering brush is a variant of the fan brush that allows the drawing of feathery designs on your nails and gives a splatter effect. This nail art brush can help create intricate designs and add minimal glitter to your nails.
Shader Brush
The shader brush is similar to the square brush but has a short endpoint, enabling you to fill up backgrounds and ensuring an excellent painting experience. Depending on your preferences, it also helps mix multiple colors and provide the perfect shades, dark or light.
Grass Comb Brush
The grass comb brush is a unique nail art brush with flat and short bristles. This brush is excellent for creating special effects on your nail art designs, like airbrushing, providing feather-like and grass-like effects to make your nail art more beautiful.
Call to Action
Now that you know the different nail art brush types to enhance your manicure, know where to get them. Queen Brush is the perfect destination because we produce all these different nail art brushes to suit your every requirement. So order your nail art brushes from us and get the best quality products to enhance your manicure to the next level.