We write regularly about makeup brushes and their features. We brainstorm ideas with our buyers to find out what we have been missing so far and how we can improve together.
A makeup brush is a tool, with three main parts, that is used to apply makeup procedure on the face or skin. The three main parts are the hair knot, ferrule, and handle.
We will get to know in this blog what these three parts are. We will then discuss the main types of makeup brushes. And we will see how mini makeup brushes are different and could be trendy for your customers.
Three main parts of a makeup brush
Hair Knot
Bristles in a makeup brush form the most important part, the hair knot. The type, density, and shape of bristles differ for different makeup brushes.
Traditionally, bristles were obtained from animal skins. The animals could be sables, squirrels, foxes, and horses. But in today's world where brand values are based on cruelty-free products and sustainability, synthetic bristles are preferred. However, some luxury makeup brushes use goat hair.
The hair knot weighs differently for different makeup brushes. The hair knot on the head side is flat, rounded, or angled. The hair knot for mini makeup brushes is small.
Ferrule
The second part of a makeup brush is a ferrule. The hair knot is glued in a ferrule. The ferrule is made of aluminum, copper, and brass. The makeup brushes with copper and brass are expensive. However, there are plastic ferrules too if you look for something at a relatively low price.
Handle
The user grips the handle when applying makeup using a makeup brush. The metallic handles are sturdy. There is also an option available to go with plastic handles for wholesale orders. The business logo can be stamped on the handle for branding.  
Types of makeup brushes
You must be thinking why we are discussing makeup brush types when we were to discuss mini makeup brushes. The answer is it is necessary and we will do it quickly. A mini makeup brush is a small format of its counterpart makeup brush.
Also, there are no set rules on how many mini-makeup brushes you need to add to your custom mini-makeup brush kit. So, we can provide you with a sample of whatever mini makeup brush you want to introduce in the market.
And one thing more, makeup brushes are of so many types for different needs and purposes that it is difficult to classify them authoritatively. New makeup brush designs are introduced regularly. And we love creative inputs from makeup artists and entrepreneurs.
Powder brush: Powder brush has dense bristles. It is used for applying foundation.
Kabuki brush: It is a historical brush that has evolved much over time. Used for the foundation makeup.
Tapered foundation brush: This is also a foundation makeup brush. The brush head is tapered.
Stippling brush: This makeup brush works for cream and gel foundations too. This gives the user a perfect airbrushed look.
Contour brush: The contour brush has an angled brush head. A user achieves defined cheekbones and facial structure through a contour brush.
Fan brush: The fan brush has loose bristles. This applies highlighter in a makeup procedure.
Eyeshadow brush: Face brushes don't work for eyes. An eyeshadow brush applies makeup on the eyelids.
Tapered eyeshadow brush: This makeup brush has a tapered brush head.
Eyeliner brush: This is a thin makeup brush and is used for precision work.
Why are mini makeup brushes important?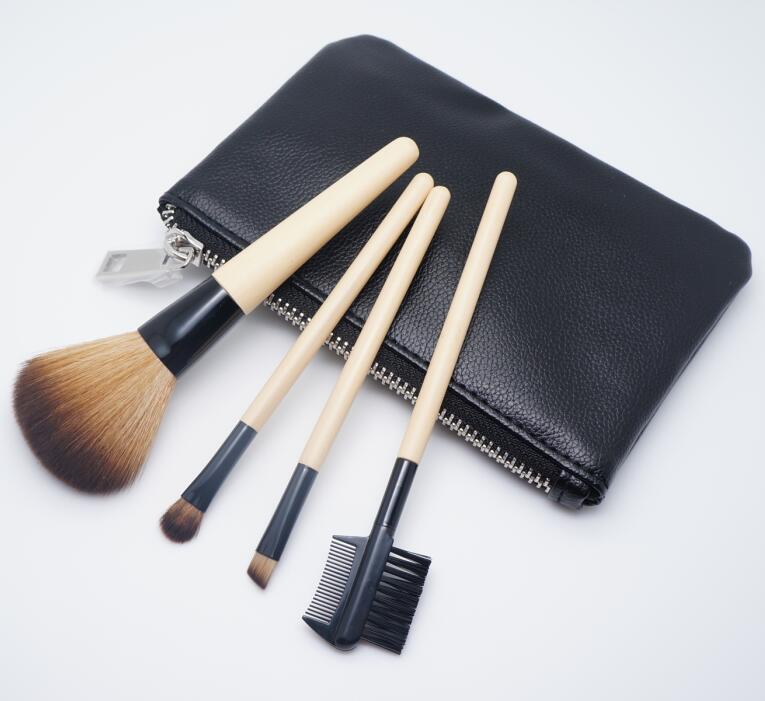 Mini makeup brushes are referred to as travel makeup brushes. The reasons are simple. They are compact and can be carried along easily. The length of makeup brushes in mini format can range from 6 cm to 12 cm or 15 cm.
Mini makeup brushes are a need for traveling women and makeup brushes collectors can't afford to miss out on them. A mini makeup brush kit is a collection of mini makeup brushes.
The mini makeup brush kit can include some basic to many mini-format makeup brushes. Things aren't fixed in the makeup brush business. You may find some retailers selling a mini makeup brush set containing just 3 brushes. Some retailers on Amazon sell a mini makeup brush set that includes 8 mini makeup brushes.  
Why do you need to add mini makeup brushes to your stock?
There could be many reasons. There has been a demand for mini makeup brushes. Mini makeup brushes are essential for women who travel. As a retailer, you can sell mini makeup brushes separately or in a makeup brush set.
Selling custom mini makeup brush kits can also help you brand your business. You know the makeup brush market and what mini makeup brushes are necessary to be included in a kit. You contact the suppliers, place the order, and procure the kits. With aesthetic product photos and USP, you can definitely attract new customers. Novelty is a prerequisite!
On the other hand, there are so many mini makeup brushes that you can sell without making any combination or set. For example, a mini foundation brush can be in demand. The primary function of a mini foundation brush is to apply foundation. But it can also apply highlighter and give concealer touchups. So, you can sell multi-purpose mini-makeup brushes to your customers.
Where Queen Brush comes in?
We are a certified private label makeup brush manufacturer and have been in the industry for more than 15 years and we have seen it all. Our buyers come from all parts of the globe. The custom requests challenge us and we take pleasure in discussing creative ideas. So, if you have any related ideas, do share them with us now. Meanwhile, you can download our catalog to see what products we offer!