End users of our products matter to us the most at the end of the day. The sheer responsibility to meet their requirements lies on us. Holding on to customer loyalty can be tricky. You miss the quality, you lose the customers. You miss their demands, you lose them. Your hawkish competitors in that case make the most of it.
At our blog, we regularly brainstorm ideas with our B2B buyers. The sole purpose of our writing is to discuss how we could collaborate to offer unique and customized products. In this specific post, we will learn in detail about face mask brushes and cosmetic bowls.
What face mask is
The face mask is a makeup product that a user applies on her skin and then washes her skin after 10-15 minutes. The face mask acts as an exfoliator and rejuvenates the areas where applied. The face mask can also be applied to hands and arms.
Perhaps, a certified beautician can recommend the best face masks. There are hundreds of blogs that teach DIY face masks. This means that by reading those blogs a user can make a face mask using natural ingredients. Also, ready-to-use face masks are immediately available on the market.
We will not be discussing how to make a face mask. Rather, our topic of focus is what face mask brushes a user needs to apply the face mask. Let's see what tools a user may need for face mask application.
1- Face mask brush
The Foundation brush has always been a multi-purpose tool. The brush has dense and fluffy bristles. The brush blends foundation makeup seamlessly and yields even-toned skin.
The foundation brush can also be used to apply the face mask. Please note that we are talking about synthetic hair foundation brushes. As face masks are mostly pastes, natural hair foundation brushes are not compatible with face masks.
The face mask brush is the same as the synthetic hair foundation brush. The brush head can be round or flat on top.
2- Silicon face mask brush (An alternative)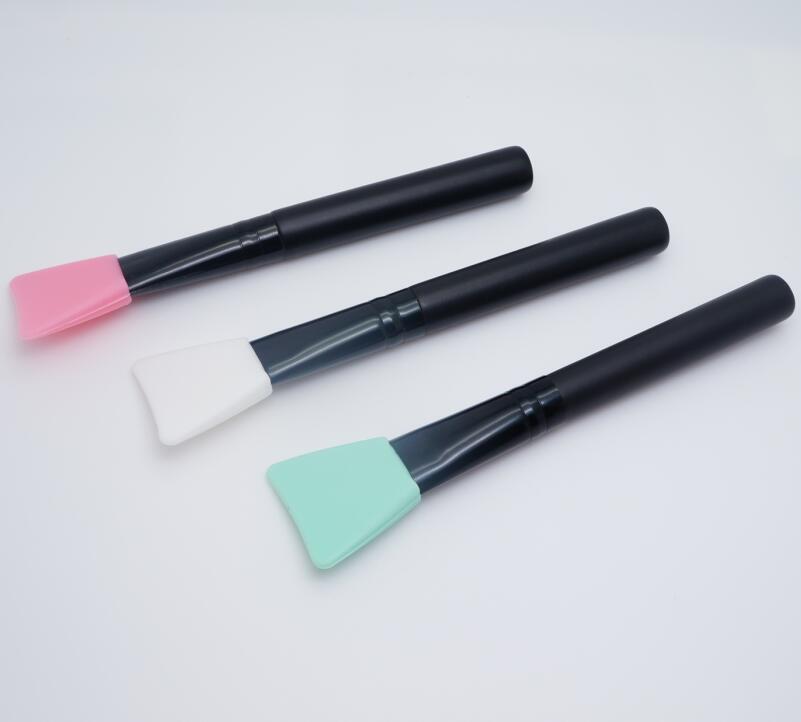 A silicon face mask brush or silicon spatula is a brush specific for face mask application. Generally, it has a wooden handle or bamboo stick. The ferrule is metallic and made of aluminum. And it has silicon-made bristles.
As this brush is specific to the face mask application, it can be a better choice for many modern users. The silicon face mask brush applies the face mask seamlessly.
Which one is better: Depends on the user. The synthetic fiber face mask brush applies a thin and perfect face mask layer. But the synthetic fiber brush is difficult to handle. The brush can carry bacteria. The brush is difficult to wash.
Silicon face mask brush can be sometimes picky and applies a thick face mask layer. However, the silicon face mask brush is easy to wash. The brush can also be disinfected easily and carries fewer bacteria.
3- Face mask cosmetic bowl
If the user goes to a market and buys a ready-to-use face make for her, there's no need to advance the argument. But what if the user is more into DIY techniques and prefers to make the face mask at her home?
The user will need a bowl for that. This bowl can be made of plastic, wood, or bamboo. Bamboo bowls are just exquisite!
4- Spatula and spoons
A spatula is a tool that mixes the ingredients of a face mask in a bowl. The user will also need spoons by which she adds the face mask ingredients to the bowl. The material for spatula and spoons can be plastic, wood, or bamboo.
Face mask brush with bowl set wholesale
Applying a face mask once a week is recommended to take care of the skin. It is thus essential for a user to have the face mask tools immediately available. So the set that contains face mask brushes and a cosmetic bowl is a requirement of the user.
How you can brand your business with face mask brushes
Quality products are indispensable for any retail business. The other things that put a business ahead of its competitors are marketing and branding.
Branding is all about building a reputation in your customers' minds. It includes your labels, packaging designs, and your brand values too.
Marketing and branding are interconnected. With more products in the market under your brand name, the opportunities to market and expand your business in whole increase.
You can add face mask brushes to your stock with your brand label. In addition to that, you can also add the face mask makeup tool sets to your stock.
And there is an opportunity for you to be consistent with your brand values. Suppose, you have wanted your products to be vegan and sustainable. You can go with the face mask makeup tool sets that contain 2 silicon face mask brushes, 3 bamboo spoons, 1 bamboo spatula, and 1 bamboo bowl. The bamboo products are exquisite and don't hurt the ecosystem.
Anyway, there could be more ideas for face mask makeup tools. But someone who is creative or has been in the industry can perhaps come up with more refined ideas. Moreover, a retailer understands better her customers' preferences.
How we can help
We are a qualified makeup brush manufacturer and have been in the makeup brush industry for more than 15 years now. We export quality products across the globe and are well-versed in international trade procedures. You can download our product catalog to see what products we offer or send us an inquiry straight away for a personalized order.