Have you often heard the sentence, "Beauty lies in the eyes of the beholder?" Yes. It is true, but your eyes can also do the talking. So, where do you think the most beautiful women acquire their beauty quotient? You have guessed it right. It is the eyes that make you look gorgeous. More precisely, your eyelashes are critical in enhancing your beauty to the next level. So, let us discuss the mascara wand, the most adorable makeup accessory in your armory that makes you look stunning every time you use it.
This article discusses the different mascara wands you should use according to your eyelash type. It benefits buyers because they can order their products according to user preferences.
· The Thick Brush for the Curly and Dense Eyelashes
Curly eyelashes are beautiful, and you can make them look denser using the thick mascara wand. This eyelash brush has a long handle, similar to other makeup brushes. Usually, we provide an aluminum ferrule and a wooden handle to make this mascara wand sturdy. Buyers can customize their requirements and provide their logo. We will incorporate the logo and produce your private-label mascara wand according to your requirements.
The advantage of the thick mascara wand is that it gives you a large-eye look and a fluttering appearance that looks gorgeous. This mascara wand is perfect for people with big eyes, as the brush stretches the eyelashes to curl beautifully with maximum impact.
So, if you have big eyes with naturally long eyelashes, this mascara wand is ideal for giving you a chunky appearance. Buyers should look to stock up on this inventory because many women have thick and dense eyelashes.
· The Skinny and Long, Fine-toothed mascara brush for short and curly eyelashes
The fine-toothed mascara brush is perfect for short and curly eyelashes. The best aspect is that this wand helps separate and define your eyelashes beautifully to enhance your attractiveness. This mascara wand has densely packed bristles made from a pony or goat hair. We also use synthetic bristles according to the buyer's preferences. The wooden or bamboo handle and the aluminum ferrule make this mascara wand sturdy and long-lasting. Buyers can customize their products according to their requirements. We maintain the confidentiality of their design.
The benefit of this eyelash brush is that it minimizes over-saturation and clumping of the makeup product on the eyelashes to ensure a glamorous look. In addition, the densely-packed bristles can untangle the curly eyelashes and coat the smallest of hairs evenly, thus allowing maximum eye coverage.
· Hourglass-shaped brushes for sparse eyelashes
Some people have sparse eyelashes. So, they require better highlighting to make the lashes look denser. The hourglass-shaped mascara wand with dense bristles is best equipped for imparting length and volume to sparse eyelashes. In addition, this mascara wand has fine teeth that start building up the volume at the roots and distribute it evenly as you find your way through the eyelashes. So, you end up with a thick mascara-heavy look that makes your eyes appear more expansive and beautiful.
The South-East Asian market has a high demand for these brushes because most women in these areas have sparse eyelashes. Buyers from this part of the globe benefit by stocking up on these products.
· The disposable plastic brushes, if you have less time.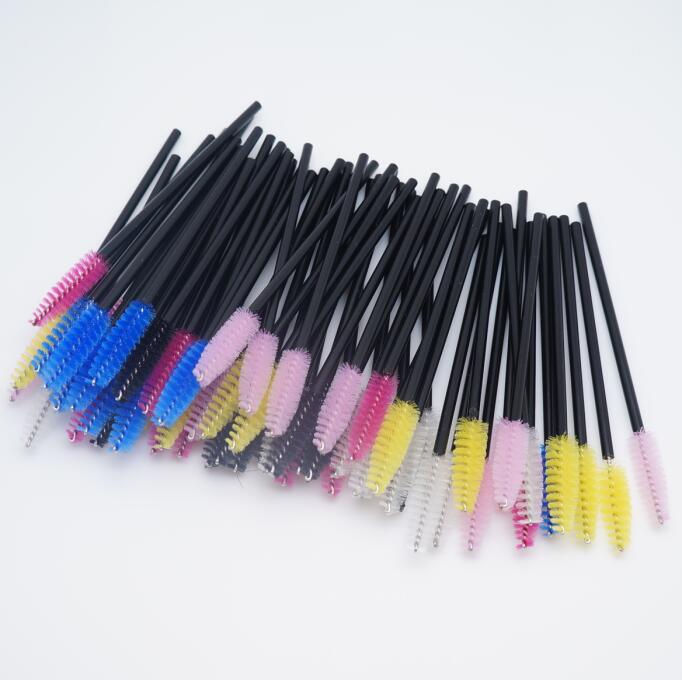 While it is always advisable to devote quality time to your eyelashes, you can sometimes find yourself busy. But that should not affect your makeup procedure. We have the right product, the disposable plastic brushes, that help apply the mascara quickly. These brushes have plastic bristles that make it convenient to comb through your eyelashes and ensure uniform mascara distribution.
The most exciting aspect is that the bristles are comparatively larger to help grab each eyelash and eliminate excess mascara. The plastic handles make these mascara wands flexible, allowing easy maneuvering around the eyelash line. It enables the convenient separation of each lash, thus enhancing your eye's beauty to the next level. These mascara wands are cheap because you do not use them more than once. You can stock them up in your makeup kit and dispose of them on usage.
· The disposable bamboo mascara wand is better than the plastic variety.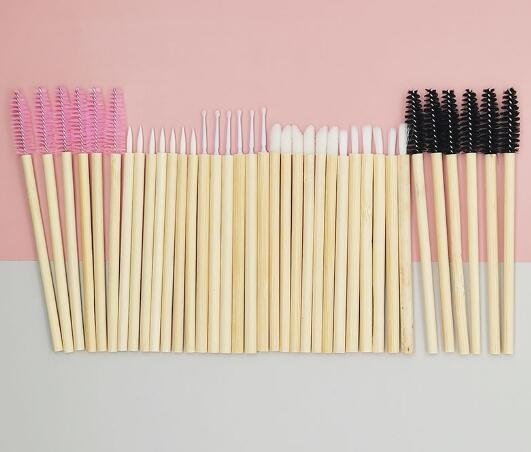 The disposable plastic mascara wand is convenient to use. But, it looks cheap and vulnerable to breakage. Hence, many buyers prefer the disposable bamboo mascara wand because they are comparatively sturdier and last longer than their plastic counterparts. However, the bamboo mascara wand is more expensive than the plastic variety. But it provides long-lasting value and is as good as a traditional eyelash brush. This disposable bamboo mascara wand does not have any plastic materials in it. It is the trending eyelash brush today because most customers prefer using it.
Disposable mascara wands are trending today. So, buyers can concentrate on purchasing disposable bamboo mascara wands rather than plastic varieties.
· The Spike Ball brush for super dense but sparse eyelashes
Some people have mixed eyelashes that might be dense in some places and sparse in others. So, the best mascara wand for such eyelashes is the spike ball brush, as it is perfect to work in small areas. You can highlight a specific area beautifully using this spike ball mascara wand.
Usually, the spike ball mascara brush is made of plastic or silicone. They have a cylindrical tube and are generally small but customized according to the buyer's preferences. So, if you wish to elongate your eye shape and give it more length and depth, the spike ball brush should be a critical makeup accessory.
The spike ball brushes are popular because it allows people to get thicker eyelashes. Therefore, buyers should recognize these trends and order spike ball brushes in bulk to cater to this unique clientele.
· The pointed-tip mascara wand for the perfectionist
So, which type of mascara wand would a perfectionist prefer? The pointed-tip brush is ideal because it creates adequate volume and uniform application. The advantage of the pointed tip is the density it provides to your eyelashes.
The pointed-tip wand has a rounded section that allows for traditional horizontal application. But, simultaneously, this brush enables you to access challenging areas like the shorter inner eyelashes. So, you end up getting perfect eyelashes similar to what Hollywood stars love to have.
Which woman does not love the perfect look? So, buyers have a readymade market for the pointed-tip mascara wands.
· The mascara wand with tube
People love disposable mascara wands because it allows them to use a new brush every time. The mascara bank with tube is gaining popularity because you can comfortably tuck them inside your makeup accessory bag and carry them wherever you go. This wand is one of the easiest-to-use makeup accessories that can help you perfect eyelashes within no time.
Final Words
Mascara wands are indispensable for a complete makeup procedure because they are ideally suited to beautify your eyelashes. These brushes accentuate your eyelashes and make them look prominently gorgeous. Queen Brush manufactures an exciting range of wholesale mascara wands that buyers can order wholesale. However, the best feature of our products is the customization that allows buyers to order private-label mascara wands according to their user preferences. Buyers can research user preferences in their respective markets and order the ideal mascara wands accordingly.