If you are looking forward to using the best quality nail brushes to beautify your nails, nothing can beat the kolinsky hair nail brushes. Though synthetic fiber options are available and reasonable, makeup artists also prefer kolinsky nail brushes to the others. Manufacturing kolinsky brushes takes a lot of skills and expertise. This article discusses the manufacturing process of kolinsky hair brushes and the features that distinguish it from the general makeup brush manufacturing process.
How are Kolinsky nail brushes manufactured?
As you know, the kolinsky nail brush manufacturers procure their raw materials with extreme difficulty because of their scarcity. Besides, the manufacturing process requires tremendous skills, making these brushes the most expensive of all makeup brushes.
Once the kolinsky hair is sorted out and cleaned, the workers use combs to separate the wool from the hair. Then, the skillful work commences, with women separating each fiber by hand and accurately sniping the length. Finally, the uneven strands are rejected, and the bristles are aligned perfectly, tied up securely, and glued into the ferrules. The skillful women working in the kolinsky nail brush factory ensure that every strand looks in order.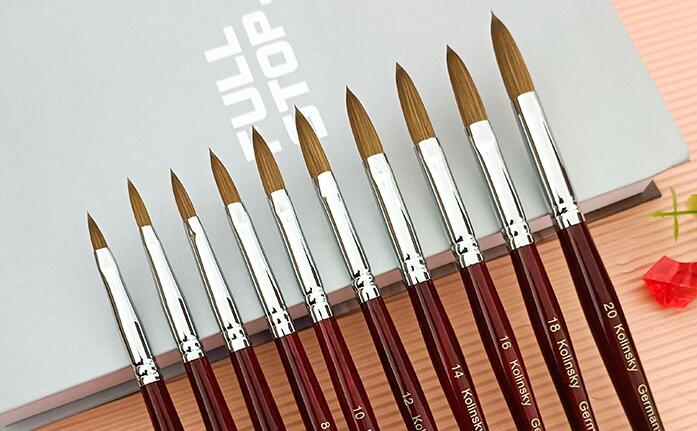 Let us now discuss the features that distinguish kolinsky nail brush manufacturers from others.
Requirement for more skillful workers
We have seen that the maximum work on kolinsky nail brushes is done by hand. The kolinsky hair is delicate and requires precise sorting because it must be of equal length. Besides, the alignment should be perfect, with the inverted hairs separated from the straight ones.
The workers are extensively trained for more than a year before they become skillful in assembling the kolinsky hair brushes. Some kolinsky nail brush factories train their workers for nearly three years and have frequent refresher courses to retain their skills and expertise.
Requires tremendous artistic skills and commitment
Kolinsky nail brush manufacturers require skillful workers with tremendous patience. It requires long hours of practice and commitment to pick up the strands of the perfect length and align them in the right shape. Then, each strand requires precise sniping at the edges to ensure they are arranged beautifully to deliver the required results.
But the process continues. The workers must ensure they maintain the same high standards forever. Hence, they must undergo frequent training and refresher courses to polish and sharpen their skills. Other makeup brushes do not need such detailed preparations. This factor separates the kolinsky nail brush factory from the others.
It takes more manufacturing time than a regular makeup brush.
While kolinsky hair brushes are hand-made, synthetic fiber bristles are prepared by machines. Compared to kolinsky hair, synthetic fibers are less expensive. Secondly, they do not require perfect alignment because each strand looks identical. The only factor is maintaining the perfect length and smoothing out the edges. Machines are sufficient to carry out these processes.
Since kolinsky nail brush manufacturers use more manual labor and less machine work, the manufacturing process takes more time than a regular makeup brush. Manual work ensures minimum wastage because unused or rejected hair can also be used to prepare sample kolinsky hair brushes that are not offered for sale. All these factors increase the manufacturing time considerably.
Longer lead times than a makeup brush order
As we have discussed, the kolinsky nail brush requires more preparation than regular makeup brushes. Consequently, the lead times for the kolinsky nail brush are more than that of the conventional makeup brushes. While regular makeup brushes take around 30 to 35 days from starting the manufacturing process to the shipment date, kolinsky nail brushes take considerably more time. It is because of the extensive use of manual labor in preparing the bristles. However, the other aspects, like handle and ferrule making, assembling the brushes, and the packaging times, remain the same.
It requires more sample sets from customers.
Kolinsky nail brushes require extreme detailing, especially in how the bristles are set up. As a result, Kolinsky nail brush manufacturers always have multiple sample sets they share with their wholesale customers. While they share samples of other makeup brushes, customers require more kolinsky hair brush samples before deciding on their perfect requirements.
Kolinsky nail brush factories have sufficient stock of lower-quality kolinsky hair for manufacturing sample sets. It allows them to share with potential customers enabling them to inspect these samples and decide on the best options. In contrast, nail brush manufacturers share one sample set of other brushes.
Synthetic to Kolinsky nail brush ratio
The question arises whether manufacturing kolinsky hair brushes is economical, especially considering the raw material costs and the extensive manufacturing times. These factors increase the kolinsky nail brush pricing and make them extremely expensive. Hence, the kolinsky nail brush factory balances cost by manufacturing sufficient synthetic fiber nail brushes.
The general ratio of a synthetic nail brush to a kolinsky nail brush is 7:3. In comparison, the ratio of a goat hair makeup brush to synthetic hair makeup brush is 1:9. Despite kolinsky hair being more expensive than goat hair and synthetic fibers, there is considerable demand. Therefore, it has a healthier ratio than goat hair to synthetic fibers.
The flexibility quotient of kolinsky hair is excellent.
One of the best features of kolinsky hair is its flexibility. It is capable of being molded into beautiful shapes. Therefore, kolinsky hair is preferred as a nail brush that requires more detailing, whereas synthetic hair brushes have more extensive applications. In addition, Kolinsky hair is excellent for creating detailed artwork because of its better capacity to hold more product on its delicate tips.
Call to Action
Queen Brush ranks among the renowned kolinsky nail brush manufacturers globally. We have a skillful team of experienced workers to craft each kolinsky hair brush to match international standards manually. Our kolinsky nail brush factory maintains the highest standards while manufacturing these high-quality brushes. In addition, we offer customization and personalization to our buyers and encourage them to order their kolinsky hair nail brushes wholesale.