Wondering what a Kabuki brush is for? This in-depth guide will unravel the purpose and benefits of this unique makeup brush, turning you into a savvy makeup tool expert in no time!
A Kabuki brush, originating from Japan, is a versatile makeup tool known for its dense bristles and wide top. It's primarily used for applying powder products, like loose powder, bronzer, or mineral foundation, ensuring a flawless and even finish.
Ready to dive into the world of Kabuki brushes? Let's discover why this tool deserves a spot in your makeup kit!
Unveiling the Kabuki Brush
The Kabuki brush, named after the traditional Japanese theater, has a rich history. This brush is renowned for its ability to apply makeup evenly, offering a polished, airbrush-like finish. The densely packed bristles are ideal for buffing powder into the skin, blending seamlessly to create a natural, radiant look.
Choosing the Right Kabuki Brush
There are several types of Kabuki brushes available, differing in shape and size for various applications. The flat top Kabuki is excellent for foundation, the rounded for bronzer, and the angled for contouring. At Queen Brush, we offer all these variations, tailored to your needs.
Benefits of a Kabuki Brush
Kabuki brushes are prized for their versatility. They help in smooth application, offering a streak-free finish, and are suitable for both beginners and professionals alike. They are also easy to clean and maintain, promising longevity.
Elevating Loose Powder Application with the Right Tool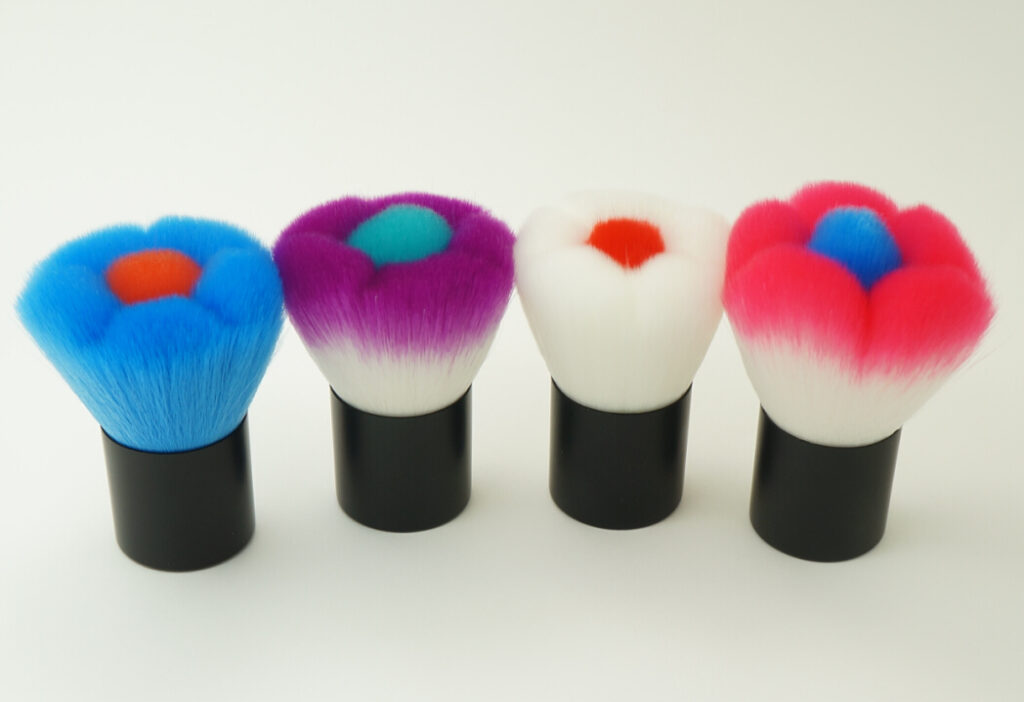 If loose powder is a part of your regular makeup routine, there's a specific tool that can significantly enhance your experience – a brush with dense, soft bristles, also known as a Kabuki. This particular design captures more powder for fuller, more consistent coverage. Its broad top also ensures the product is spread evenly across your face, resulting in a natural, skin-like finish.
The Uniqueness of a Dense-Bristled Brush Vs. Regular Makeup Brush
Comparing our unique brush with regular makeup brushes reveals some notable differences. While the latter serve a variety of applications, they might not match up to the effectiveness of our special brush, especially when it comes to powder-based products. The density and structure of our brush facilitate a controlled application, simplifying your journey to the desired makeup look.
An Ideal Choice for Sensitive Skin
What's more? Our special brushes are also a boon for those with sensitive skin. The quality of materials used in their production at Queen Brush ensures they're gentle on the skin, thus reducing the risk of irritation. So, with our unique brushes, you're not just enhancing your makeup application but also prioritizing your skin's health!
Ensuring Your Makeup's Longevity
Our unique brush is an effective tool in extending the duration of your makeup. It works by buffing the product into the skin, improving its adherence, and thereby, its longevity. So, for a long-lasting makeup look, our dense-bristled brush is a must-have.
Making the Most of Your Kabuki Brush
To maximize your Kabuki brush's performance, ensure regular cleaning to prevent product build-up. This not only extends the life of your brush but also ensures optimal makeup application.
The Queen Brush Promise
At Queen Brush, we're all about providing high-quality brushes. Our Kabuki brushes are crafted with meticulous attention to detail, ensuring a luxurious feel and performance. We're committed to delivering top-notch service, addressing any concerns you might have promptly.
Conclusion:
In essence, a Kabuki brush is a multi-tasking tool that ensures a flawless, smooth finish. It's an excellent addition to any makeup kit, we offer the best of the best. So why wait? Start your journey to a radiant complexion today with a Kabuki brush!