You apply makeup to look chic and beautiful. So why should you use the same old-fashioned wooden handle brushes when you have an exciting range of attractive makeup brushes to make you look your sparkling best? We discuss the glitter makeup brush in this article and see how this exquisite makeup tool will transform and add sparkle to your cosmetic procedure.
What are glitter makeup brushes?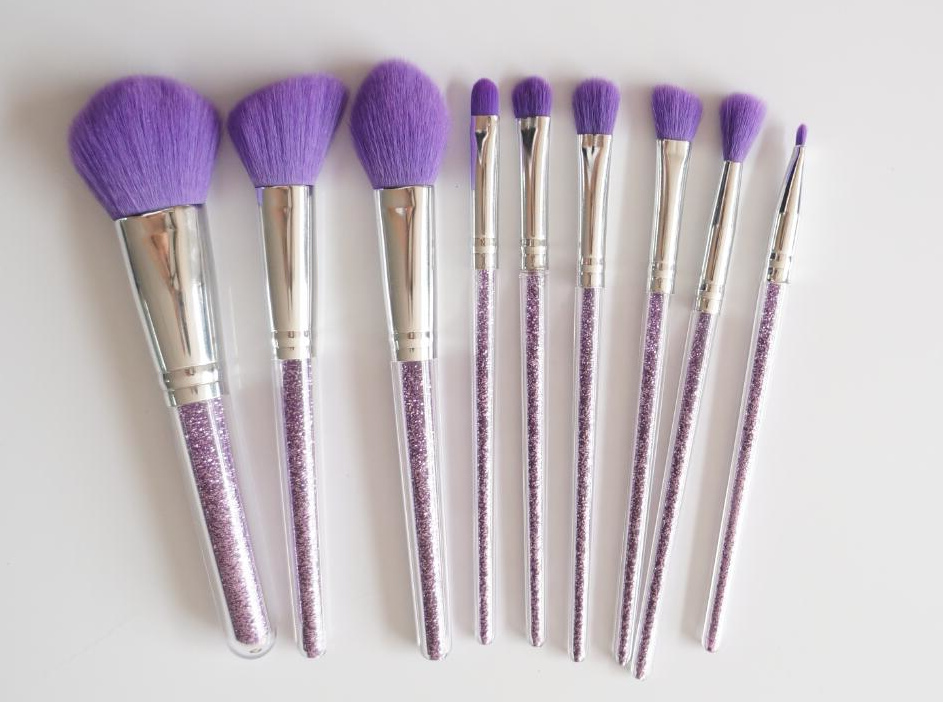 If you look at glitter brushes from the utility viewpoint, they are similar to any makeup brush you use. However, looking at things from a style quotient, you have an exquisite makeup accessory. The floating glitter in the transparent tube looks beautiful as it glides smoothly from top to bottom when you maneuver your makeup brush while applying makeup to your face.
Let us examine the glitter makeup brush structure and understand how it differs from conventional makeup tools.
Glitter Makeup Brushes – How and why they are different
Similar to any makeup brush, the glitter makeup brush has three principal components, a) bristles, b) ferrule, and c) handle.
· Bristles
Bristles are usually made up of animal hair or synthetic fibers, according to user choices. Today, the trend is synthetic because of the higher awareness of animal cruelty and other factors among makeup enthusiasts. But the leading makeup brush manufacturers customize your brushes according to your specific preferences.
Glitter brushes appear attractive. So they usually have dual-colored bristles. Since they comprise synthetic fibers, beautiful color choices are available. The general trend is toward having matching colors for the bristles, ferrule, and handle.
Quality-wise, these glitter makeup brushes are soft to the touch. Advanced technology enables makeup brush manufacturers to produce silky smooth bristles that feel soft on the skin. The advantage of soft bristles is that they allow a seamless application over your facial areas. In addition, since these brushes press lightly against your skin, they are easily maneuverable. The softness makes these brushes ideal for use on sensitive skin.
· Ferrule
Metal ferrules are the best for any makeup brush because they hold the bristles firmly without allowing them to shed. At the same time, they grip the handles tightly to make them convenient for users. Aluminum is the most preferred metal for manufacturing makeup brush ferrules because it is light, flexible, malleable, and can use any matching color to look attractive.
· Handles
The glitter makeup brush handles distinguish these products from other makeup brushes. The handle comprises a hollow plastic tube sealed at both ends to prevent the liquid flowing inside it from spilling out. The hollow tube contains a viscous liquid with beautiful quicksand glitter floating up and down as you maneuver the brush. The glitter comes in different colors, usually matching the brush and bristle colors to look beautiful. This feature separates the glitter brush from other makeup brushes.
The liquid moving inside the tube has a high viscosity that enables it to move up and down slowly. The floating glitter makes the brush look beautiful. The seal is tight enough to prevent the liquid from leaking.
The Different types of glitter brushes
Glitter brushes are usually available in sets of seven or ten. The set includes different brushes to cater to your entire makeup procedure. Usually, a pack of seven glitter brushes includes the following categories.
Fan brush
Eyebrow brush
Eyeshadow brush
Lip brush
Eye blender brush
Powder brush
Blush brush
However, wholesale purchasers can customize their preferences and order their requirements from the manufacturers.
The best aspect of glitter makeup brushes is that they apply all makeup, including powder, cream, liquids, and gel. Since they have smooth synthetic fibers, they blend colors and shades beautifully across your face. These brushes are comfortable to grip with two fingers and easy to maneuver. The soft bristles can move around in all directions to ensure the perfect blending of products on your face.
How does the liquid flow inside the tube?
Many people confuse the liquid inside the transparent tube with water. But it is not water because water has a low viscosity. The liquid inside the tube is highly viscous and can be compared to oil. Manufacturers leave out sufficient air inside the tube, allowing the viscous fluid to move up and down. The glitter comprises tiny sand crystals that float on the liquid and move along.
How the brush got its name?
The tiny sand crystals have phosphorescent qualities and glitter beautifully when light falls on them. Since they reflect light, they appear to shine inside the tube. In addition, the fluid's viscosity enables the glitter to glide slowly inside the tube, adding to the attraction quotient.
Features to look out for when ordering glitter brushes
User psychology points out that people use similar brushes when applying different makeup. So when they use a glitter eyeshadow brush, they prefer to have a glitter blush brush or glitter lip brush in their kits. Therefore, wholesale purchasers should note this trend and order their requirements accordingly. In addition, we suggest they order entire sets of glitter brushes to give users complete freedom to choose them.
Where to order glitter brushes?
Queen Brush is a leading makeup brush manufacturer in China. We manufacture various makeup brushes to suit every makeup requirement. Our range of glitter makeup brushes compares with the best products in the world.
We use high-quality synthetic fibers to manufacture glitter brushes. We are open to suggestions from our clients regarding bristle and brush colors. Accordingly, we order our raw material requirement. This flexibility makes Queen Brush a preferable choice for many wholesale buyers globally.
We use unbreakable plastic to manufacture glitter brush handles. Our sealing is perfect for ensuring against any leaks. We offer personalization facilities where we add the buyer brand logo on the brush handles. Since glitter brushes have transparent handles, we tweak our logo design accordingly to ensure proper visibility. We ensure maintaining absolute hygiene at every production stage. Our packaging is world-class and tamper-proof. Besides, our pricing is most reasonable. So wholesale buyers get total value for their money when ordering glitter makeup brushes from us.
Final Thoughts
Glitter brushes are innovative as they magnify the thrill of applying makeup. The sand crystals inside the tube look beautiful, especially under lights. This product is one of the fastest-moving products in the market today. So we advise wholesale purchasers to order a sufficient quantity of glitter brushes to cater to their customers.