Finding a woman who does not like flowers is rare because everyone likes them. So it would be a fantastic idea if you had flower shaped makeup brushes to spice up the attraction quotient. Yes. Flower shaped makeup brushes are available that look gorgeous and deliver an excellent job of beautifying your face to the next level. This article discusses flower shaped face makeup brushes and why they should be integral to your makeup kit.
Flower shaped makeup brushes – A novelty
Using the same design of makeup brushes daily can become depressing. So you need a change from the mundane and try something different to make your cosmetic makeup procedure exciting and spicy. You can try the flower shaped makeup brushes and experience the excitement you yearn for. The flower-shaped design is a novelty in the makeup industry. While the design looks alluring, these makeup brushes are among the most convenient to apply makeup products uniformly across your face because of their flexibility and versatility.
Flower shaped makeup brushes – It's different
The flower-shaped face makeup brushes are available in two designs, one with flower shaped bristles and the other with standard bristles. However, these designs have flower-shaped handles that add to the overall beauty. Besides, Kabuki brushes are available with flower shaped bristles to deliver a fantastic job of applying face makeup. So these brushes look distinctly different from conventional face makeup brushes. Let us study the structure of the flower-shaped face makeup brush to understand the design better.
Flower-shaped face makeup brushes – The structure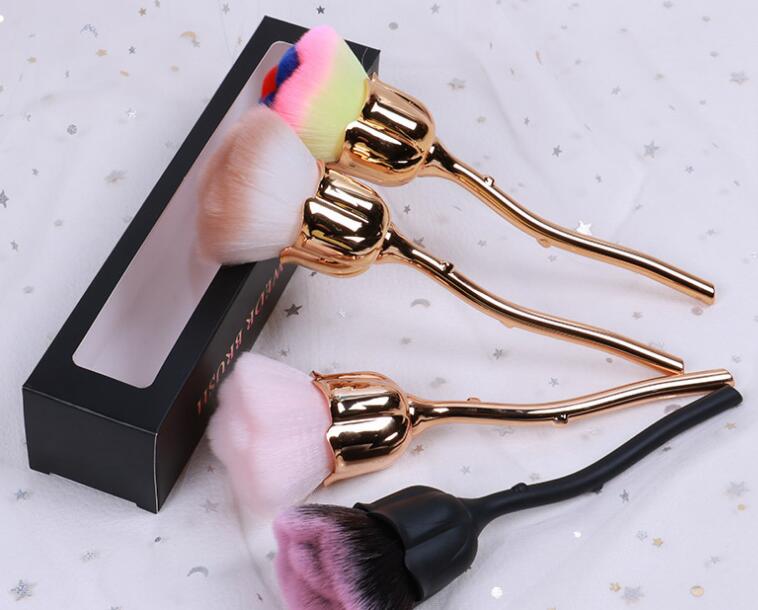 The unique feature of the flower shaped makeup brushes is their design. The handle is carved out in the shape of a rose stalk. As a result, it feels as if you are holding a natural rose in your hands. The exquisitely shaped handle, with its beautiful curves and the small mounds depicting the thorns in a rose stem, adds to the overall beauty and makes these brushes the best in the business.
Usually, the handles are made of plastic because it is convenient to prepare plastic molds in these shapes. However, these brushes require more intricate artisanship. Therefore, they are comparatively more expensive than brushes equipped with plastic handles.
The unique design eliminates using a separate ferrule to hold onto the handles and the bristles. Instead, the handles double up as a ferrule and can hold the bristles beautifully. The brush hairs are packed tightly into a flower shape and fixed to the handle firmly. As stated earlier, the bristles come in two shapes. The most common shape is the flower shape, where the bristles spread out as rose flower petals and look alluring.
The packing is exquisite because the differently-sized bristles resemble the natural bumps visible in flower petals. The regular bristles are also spread out beautifully, giving it a flower shape with closed petals. The bristles are available in multiple colors according to user preferences. Double-colored bristles add to the overall charm and make these face makeup brushes look damningly beautiful.
The flower shaped Kabuki brush is an excellent innovation. This brush differs from conventional kabuki brushes because of the unique flower-shaped bristles. The handle shape and design are the same, but the flower-shaped bristles make these brushes look exceedingly beautiful. Dual-color or triple-color bristle options add to the exquisite beauty of the Kabuki brush's design and appearance. The flower-shaped Kabuki brushes can have plastic, metal, or bamboo handles according to user preferences.
The flower shaped face makeup brush bristles are made from goat hair or synthetic fibers. Queen Brush offers both these options to our buyers. They can decide their preferences. Accordingly, we manufacture these brushes. While goat hair is soft and smooth, synthetic fibers are also exceedingly comfortable. While professional makeup artists prefer animal hair brushes, synthetic fiber bristles are a growing trend. As a result, a significant proportion of our products include synthetic hair in popular demand.
Queen Brush – Our repertoire of flower-shaped face makeup brushes
Almost all the top makeup brush manufacturers produce flower-shaped face makeup brushes. Queen Brush has an exquisite range of these attractive brushes for its customers. The following features distinguish our makeup accessories from our competitors.
We cater to consumer requests regarding the choice of bristles. So we offer animal hair and synthetic fiber bristles depending on user preferences. However, we appreciate that our clients inform their preferences in advance, allowing us to procure raw materials accordingly.
Kabuki flower shaped face makeup brushes have plastic, metal, or bamboo handles. However, other flower-shaped face makeup brushes have plastic handles. These handles are comfortable gripping and convenient for applying makeup on your face because these accessories are light.
The highlighting point of our flower shaped face makeup brushes is the exquisite handles that resemble rose stems with their unique bends and bumps. It feels like we hold a natural flower when using these brushes.
Our flower shaped brushes are available with multi color bristles. Single color bristles are also available as less expensive options. However, multi color bristle brushes are expensive because manufacturing these brushes involves more labor.
We do not manufacture small flower-shaped face makeup brushes. However, we are flexible with our design and color options. We offer our customers the facility to personalize and customize their choices, and we manufacture our products accordingly.
The best aspect of our brushes is that we offer logo printing on the brush handles. Therefore, customers can share their brand logos with us when ordering their requirements. We cater to all customer preferences and ensure the manufacturing of the best makeup brushes in the most hygienic manner.
Customized packing distinguishes our products from that of our competitors. We package our products according to customer requirements and dispatch them securely, ensuring that our products do not get damaged at any stage during their transportation.    
Final Words
Applying facial makeup can get monotonous if we use conventional makeup brushes every time. A drastic change is necessary to liven the proceedings. The flower shaped face makeup brushes offer you the luxury of using a stylish-looking brush to spice up your makeup procedure.
We have discussed the features of these unique brushes and explained how they differ from conventional makeup tools. So customers can order their requirements from us and offer their clients an extensive range of flower shaped makeup brushes.