Different makeup brushes are available to cater to various cosmetic procedures. For instance, eyeshadow brushes are excellent for highlighting your eyeliners, whereas foundation brushes are ideal for applying your base makeup product. But these brushes are unidimensional tools that cannot perform multipurpose activities, like brushing off excess powder, highlighting cheekbones, applying facial masks, etc. So a fan brush can help you cater to such requirements.
What is a fan brush?
A fan brush is a multipurpose makeup brush with bristles having a fan-like shape. The densely packed bristles can perform multiple activities and double up as a cleaning tool by removing excess makeup products from your face. Fan brushes are available in different sizes, such as small and large ones. In addition, each brush has its multi-utility. So, it qualifies as a versatile beauty accessory that can be used in multiple ways to enhance your cosmetic appearance.
Let us discuss the different functions the fan brush can perform.
· Eyeshadow balancing
You have an extensive range of eyeshadow brushes to give you the most beautiful eye makeup. These brushes can give you a smokey-eye look and stand out from the crowd. But the fan brush plays a silent role in removing excess eye makeup products from under your eyes. Thus, you need not use your fingers, smudge the makeup, and make a mess of your beautiful eye makeup.
· Set your facial contours right.
The large fan brush is perfect for balancing the excess makeup powder or liquid applied to your face. The fan brush's unique shape allows perfect facial contouring and helps you end up with a chiseled appearance, with beautifully-shaped jawlines, forehead, cheekbones, and nose.
· Dusting off to give a natural look.
Applying foundation is crucial for any makeup procedure. But we can overdo it sometimes, leaving our faces with an excess foundation that can damage the entire makeup procedure. The fan brush is the perfect correction tool, as its uniquely-shaped bristles help diffuse excess powder comfortably.
· Highlighting tool
The fan brush is integral to your makeup kit because it can be the perfect highlighting tool to give you glowing skin. This brush can even out the products applied to your cheekbones, nose bridge, and the areas near your eyes perfectly to highlight your facial features and make you look stunning.
· Face Mask Application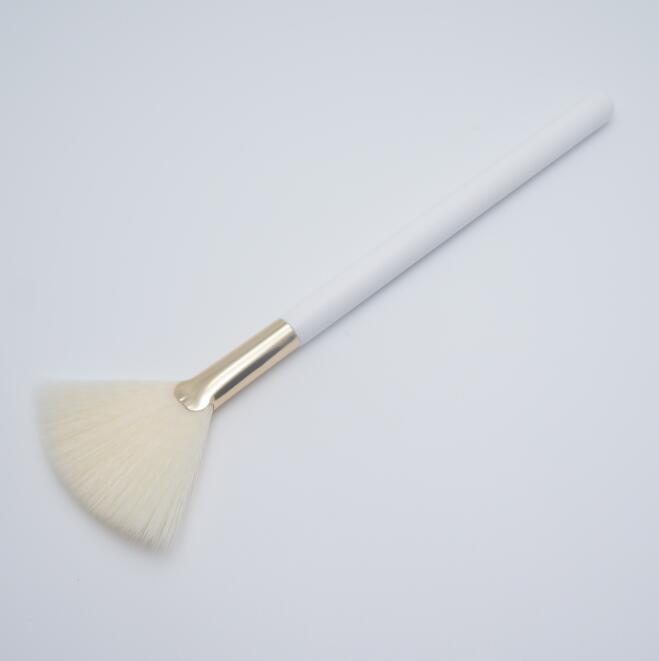 The fan brush in your kitty allows you to dispense with your hands when applying your face mask. The fan brush ensures precision and helps avoid wasting the products. Besides, it can help in the uniform application, allowing you to remove it comfortably and eliminate imperfections on your face. The small and large fan brushes are equally efficient for face mask application.
· Uniform powder distribution
The fan brushes have compact bristles spread out beautifully to help you distribute the makeup powder perfectly on your face and neck. In addition, it helps blend your skin complexion to give you the complete makeup procedure.
· The tinted moisturizing effect
People with dry skin love to apply moisturizing liquids, creams, and gels to get the perfect facial features. However, using your fingers is not a good idea. Instead, your fan brush can distribute the moisturizing liquids uniformly across your face without wasting any products.
· Blend bronzer and blush tool
You need not worry if you have applied excess blush or bronzer on your face when you have the fan brush to spread it out for you evenly. This brush helps you get an airbrushed look as it distributes the excess products beautifully across the face.
· Mascara Application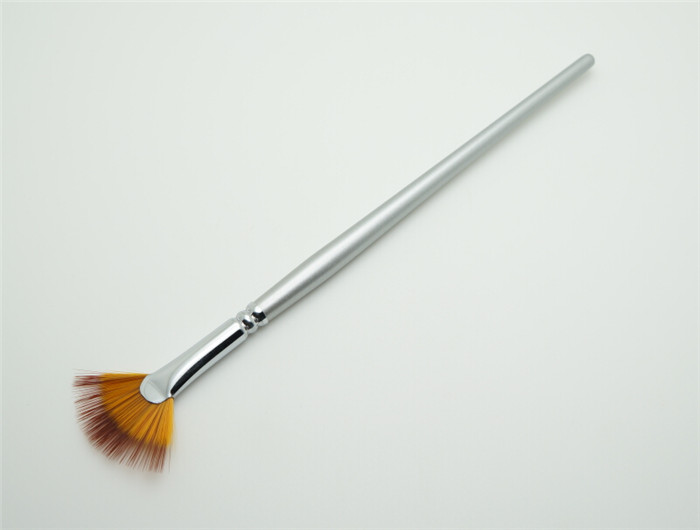 The small fan brush can double up as a mascara tool if you do not have one in your kitty. The fan brush's unique bristles allow you to use it as a mascara applicator. It is an ideal tool for applying mascara to your top and bottom eyelashes, giving you a clump-free look.
· Remove shiny T-bone areas.
Sometimes, your makeup procedure can result in a shiny T-bone area that can look greasy. The fan brush should be the most precise tool to remove the greasy lines and render the perfect glow to your face.
Since we have discussed the features of the fan brushes, let us understand their structure.
Fan Brush – Structure
The fan brush is a versatile makeup tool with exciting features.
It has densely packed bristles in the shape of a fan that can help blend your makeup products perfectly on your face and give you a uniform airbrushed look.
The soft bristles pick up the right amount of makeup product to disperse it on the skin and ensure high-quality makeup. Besides, these brushes are gentle on your skin and ideal for people with sensitive skin.
The best aspect of the uniquely-shaped bristles is that they clean up the excess product from the face without leaving any traces.
This brush is one of the lightest tools in your makeup kit. They come with wooden or metal handles. Disposable fan brushes are also available that you can use and throw away.
It has a unique metal ferrule to hold the bristles tightly and prevent them from falling off.
Where to order the fan brush – Call to Action.
Wholesale purchasers can order their requirements for small and large fan brushes from Queen Brush. We manufacture these versatile makeup tools using high-quality raw materials. Usually, fan brushes have synthetic fibers. In addition, we offer uni-color and dual-color fan brushes according to buyer requirements. The best aspect of our brushes is that they go through stringent quality tests before getting ready for dispatch. In addition, we ensure maintaining the highest hygiene levels by sterilizing the bristles at multiple stages of production. Finally, we offer facilities for including the brand name and taglines if the wholesale buyer demands it.
So, Queen Brush is the place to search to order the best quality fan brushes.
Final Thoughts
Any makeup brush kit is incomplete without the fan brush. This versatile tool is essential for removing excess products from your face and contouring the lines beautifully. Besides, it has multiple utilities to qualify it as the handiest and most desirable makeup brush in your kit.