A suitable makeup procedure involves blending different colors and textures on your face to highlight specific portions and conceal those you do not want people to see. While various makeup brushes are available for the seamless blending of makeup products, the fan brush stands tall in its utility quotient. It is consumers' most preferred makeup tool globally for expressive marks and blending textures.
With the fan brush having fans in large quantities, buyers have a challenging time catering to consumer demands. The best buyers prefer to purchase fan brushes in bulk and stock up their inventory because they know the demand is massive. If you are a new purchaser, we suggest ordering your fan brushes wholesale and remaining well-equipped to meet the surging demand for fan brushes worldwide.
This blog discusses the procedure and advantages of ordering fan brushes wholesale from the best makeup brush manufacturers. But before that, let us briefly discuss the multiple uses and different types of fan brushes available on the cosmetic market scene.
The Fan Brush – Unique Characteristics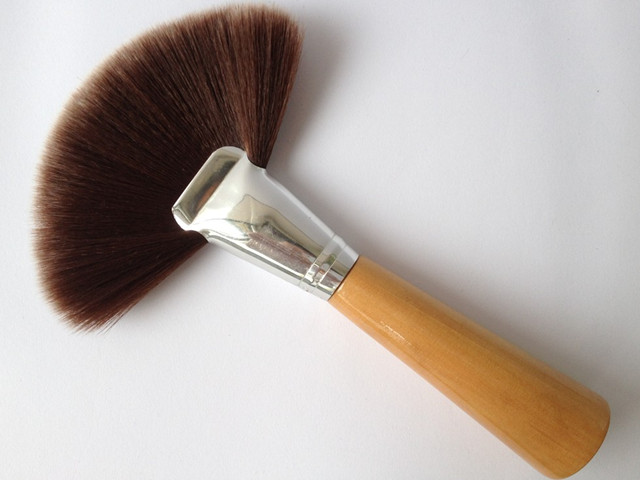 The fan brush gets its name because of its unique fan-shaped bristles spread like a peacock's feathers. As a result, the fan brush is efficient at sweeping away excess makeup products from specific facial areas and spreading it evenly across your face. As a result, it is the best brush for blending different color shades and highlighting the facial areas you wish. At the same, it is the best brush to conceal your imperfections from the general view to give you the dream look you wish for.
Depending on consumer choices, fan brushes have synthetic fiber or animal hair bristles. However, the trend today is for synthetic fibers. But the top manufacturers can arrange for high-quality animal hair if their customers specify their requirements.
Fan brushes are available in multiple sizes and are classified as small, medium, and large. Usually, manufacturers pack these brushes in sets that include different sizes of fan brushes. Depending on user preferences, these bristles are packed firmly in metal ferrules attached to wooden or metal handles.
So wholesale purchasers of makeup tools should know how to order these fan brushes in bulk and the benefits that accrue to them.
Points wholesale brush purchasers should note
Fan brushes are always in demand because they are the best makeup tools to spread products seamlessly across the face. So stocking these brushes becomes essential as the dealers could lose their customers to their competitor brands.
The best way to stock inventory is to order bulk fan brushes from the industry's top manufacturers.
Dealers should gauge customer demands and study their purchasing traits before ordering their fan brushes wholesale. It is because the best makeup brush manufacturers offer customization and personalization facilities. Therefore, buyers can customize their makeup brushes to make their products unique and stand apart from the rest.
The top makeup brush manufacturers provide sample products, either online or physically. It allows the buyers to judge the quality and confirm whether it suits their requirements.
Ordering fan brushes in bulk helps manufacturers because they can order their raw materials accordingly. Usually, fan brush manufacturers do not maintain the stock of animal hair in their manufacturing units because they require extensive maintenance and following extreme hygiene measures. So they order their requirements based on consumer demand. Therefore, wholesalers should specify their requirements for animal hair or synthetic fiber bristles when ordering their consignments.
Fan brushes are not expensive. Besides, purchasing them in bulk further reduces costs, allowing dealers to price them attractively. It helps them retain their customer base and attract more clients.
Where to order fan brushes wholesale? – A Call to Action
Ordering fan brushes in bulk directly from the manufacturers saves costs for buyers. It eliminates the intermediaries from the supply chain and connects the wholesale dealers directly with the manufacturers. As a result, it saves time and money.
Secondly, bulk purchases establish close relationships between dealers and manufacturers and build sufficient rapport to benefit both parties immensely. Queen Brush ranks among the top makeup brush manufacturers who offer excellent services and facilities to wholesale purchasers.
We share samples with our purchasers whenever they demand. In addition, buyers are welcome to visit us at makeup brush exhibitions and inspect our products first-hand.
We can also arrange factory visits that enable wholesale dealers to learn the manufacturing process, the hygiene standards, and the quality control measures. It also allows them to view our product lines from close quarters.
Since the pandemic has forced many restrictions, factory visits have reduced considerably. Instead, we arrange for virtual visits by sharing video footage of our manufacturing units with prospective wholesale dealers.
We suggest buyers specify their fan brushes' requirements, like bristle preference, size and shape, color, handle, ferrule material, and packaging preferences.
We provide facilities for wholesale dealers to affix their brand logos on our brushes to distinguish them from other brands.
We recommend that buyers order their products in bulk quantities to avail of the benefits of cost reduction and uniformity in product design.
We have specified minimum order requirements for specific products like fan brushes. Therefore, it is beneficial for wholesale purchasers to place their orders accordingly.
Our products last long because we adhere to strict quality control norms at every production stage.
Final Thoughts
Fan brushes are hugely popular makeup tools indispensable to any makeup procedure. Therefore, they are an integral part of any cosmetic kit. As fan brushes have multiple utilities and are available in various sizes, there is considerable demand for these tools. Therefore, wholesale purchasers should understand the trends and customers' preferences before ordering their requirements from the top makeup brush manufacturers. Queen Brush offers its services as one of the highly accomplished makeup brush manufacturers who maintain the quality aspect at any stage of production. So you know where to contact if you order fan brushes wholesale.