Makeup brushes have undergone various changes in design and usage over the years. The objective is to make it as useful for consumers as possible. One such exciting innovation is the double-ended makeup brush that has become the trend today because of its versatility. Queen Brush is the best place to order high-quality brushes that look beautiful and appealing and perform exceedingly well to deliver impeccable makeup.
What is a double ended makeup brush?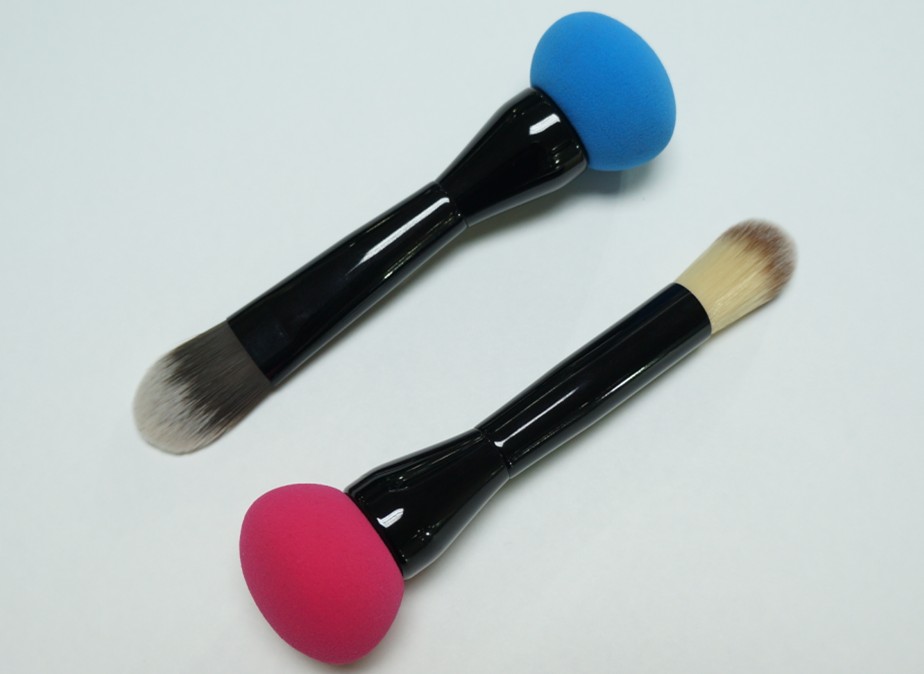 The name suggests that consumers can use this makeup accessory from both ends. Therefore, this specialized makeup brush has bristles at both ends or strands at one and a sponge at the other. However, the objective is to use both sides of the brush for different purposes and simplify your makeup procedure.
The Utility of the Double ended makeup brush
These specially designed makeup brushes are excellent for applying foundation, blending, buffing, and spreading the powder makeup product smoothly and uniformly to deliver exotic makeup.
The double ended makeup brush's advantage is that it expedites the makeup procedure. The fluffy and round-shaped head makes it easy to dab powder makeup, whereas the flat end allows users to spread foundation and liquid-based makeup products comfortably.
Double ended Makeup Brush – The Structure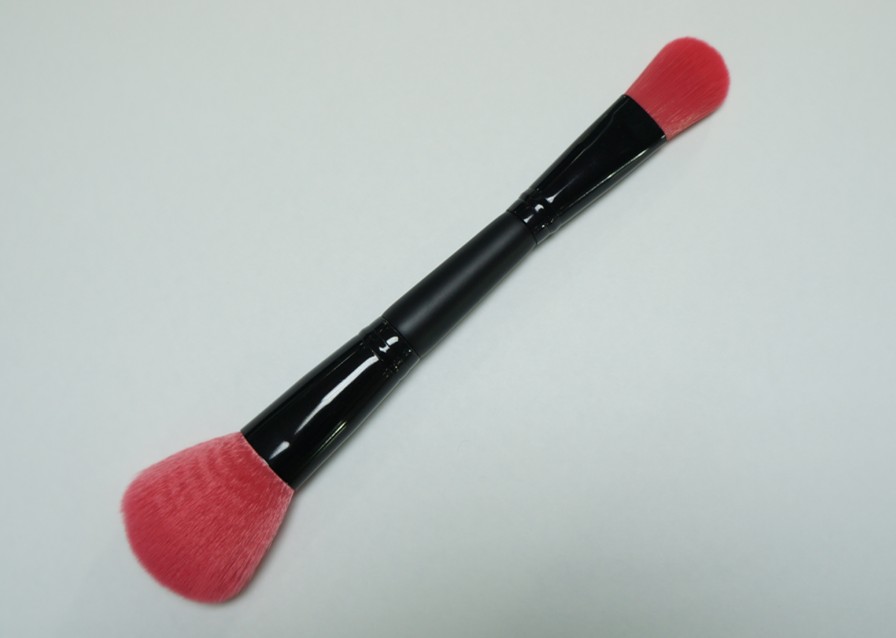 Usually, the double ended makeup brush has synthetic fibers instead of animal hair. The strands come tightly packed into the ferrules to produce a fluffy appearance, allowing users to apply powder makeup easily. The plastic or acrylic handle is short because it has another ferrule set and brush on the opposite end.
Most brushes have synthetic fibers at both ends, but they can also contain sponges, silicone nubs, a fiber comb, or a spoolie. So, depending on the brush type, it has multiple utilities.
So, double ended makeup brushes include foundation brushes, powder brushes, eyebrow brushes, and others.
What do we offer to our customers?
Queen Brush manufactures double ended makeup brushes in all categories. Our brushes have optimum hair density and innovative brush head shapes, allowing for a stunning makeup application. Our brushes are manufactured under the strictest standards, using high-quality raw materials and craftsmanship to deliver the best products.
Bristle Quality
We use 100% vegan synthetic fibers to manufacture these double ended makeup brushes. The advantage of our fibers is that they are neither stiff nor very soft. So it becomes easy to apply makeup without absorbing too much of the makeup product.
Our double ended foundation brushes are excellent for holding small amounts of liquid foundation to deliver a natural and uniform effect because they feature a concealer brush at the other end.
We subject our brushes to strict quality checks at various junctures to maintain exemplary hygiene standards. In addition, our brushes are manufactured in a dust-free sterile environment using the best quality machines using the latest technologies.
Our workers wear protective equipment while handling these brushes. So we confirm that our double-ended makeup brushes and other accessories remain untouched by human skin at all its production stages. It prevents bacterial contamination and helps maintain the best hygiene standards.
We pack the bristles tightly to ensure they do not fall off during the makeup application process. Besides, our brushes are the easiest to clean. The double ended eyebrow bushes have high quality spoolie or eyebrow comb made using firm bristles to help draw precise lines and enhance your beauty quotient.
Handle Quality
We use plastic or acrylic handles on these double ended makeup brushes making them light and comfortable. The metal ferrules are glued perfectly to the handle, with their weight beautifully balanced to give you an excellent grip.
Customized Features
The positive aspect of our double-ended makeup brushes is their customizability. We cater to our buyer's preferences regarding the choice of bristles, handle shapes and quality, and overall design. In addition, we offer facilities for printing the brand logos and taglines if the buyer shares their specific requirements with us when ordering these brushes.
Buyers can specify their color choices in advance to allow us to cater to their requests. Besides, ordering in bulk is beneficial because it enables us to procure raw materials at lower rates and provides sufficient time to customize their requirements.
Wholesale buyers can order samples from us before ordering their requirements. We share clear images highlighting each aspect of our makeup products, enabling buyers to make an informed decision. We can also arrange for virtual factory inspections where we share videos describing our makeup brush manufacturing processes. It should give buyers a good idea of what to expect when ordering double-ended makeup brushes from us.
Time Taken For Production
Usually, we have a sufficient inventory of synthetic bristles and other brush components. So, our turnover time is reasonable. However, specific buyers can have specialized demands. Under such circumstances, it can take time to cater to their requirements. Nevertheless, we inform our buyers of the expected production time and regularly update the latest position.
Quality Checks – Before and After Manufacture
We follow strict quality control standards before and after the production stage.
Our double ended makeup brushes are manufactured using synthetic fibers that undergo multiple sterilization processes to prevent bacterial contamination.
Our brushes have the ideal weight, making them convenient to hold and use both ways, according to your requirements.
We sterilize our makeup brushes before packing them for dispatch. These precautions have become essential in today's times because of COVID restrictions.
Our brushes remain untouched by hand, ensuring zero contamination. So, we observe the highest levels of hygiene and quality when manufacturing our products.
Customized Packaging
We offer customized packaging facilities to make it convenient for our buyers. We also arrange to print brand logos and names on cartons to make them easily identifiable. However, we need our buyers to specify these requirements when ordering the brushes. It becomes convenient and saves time.
Call to Action
Consumers already know the utility value of double ended makeup brushes. Wholesale buyers can order their requirements in bulk and avail of the best facilities from us. While our products are of excellent quality, we offer the best makeup brush customization services and cater to all your specifications. So you know where to order your double-ended makeup brushes. Queen Brush is the name to remember.