The foundation brush is critical to any cosmetic makeup procedure. Everyone has unique ways of applying foundation. Some people use their hands, whereas some use sponges. However, the best way is the foundation brush. Even experts feel that using foundation brushes to apply the base allows for a seamless finish. While foundation brushes come in various types and sizes, many women prefer round-tipped foundation brushes that make it convenient to apply the makeup product on the skin in smooth circular motions. Using your hands or sponges does not allow you this luxury.
Our Foundation Brush Range
Queen Brush manufactures an exciting range of foundation brushes. Generally, all foundation brushes are made of synthetic fibers. These brushes feature wooden or plastic handles and have metal ferrules to provide the utmost stability. Usually, these foundation brushes are hand-made and environmental-friendly. They suit all skin types and do not cause allergies. In addition, buyers can customize their products when ordering them in bulk to get their logo printed on these brushes.
Let us now discuss various brands of foundation brushes, their functions, their materials, and their different shapes.
Foundation Brush Zoeva
Zoeva manufactures three foundation brushes, a) the foundation buffer brush, b) the detail foundation brush, and c) the foundation blender brush. The best aspect of these brushes is that they are ideally suited for applying all foundation, including powder, cream, or liquid. These brushes are available in different sizes and are usually made of synthetic hair. The wooden handles give them a stable grip, with the metal ferrules holding the bristles tightly.
Foundation Brush Bobbi Brown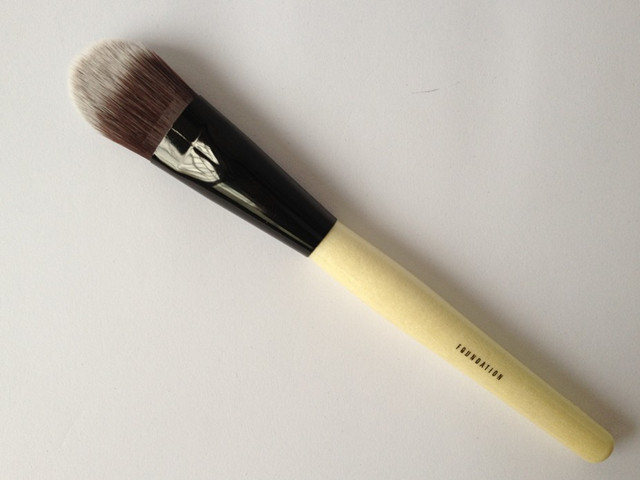 Bobbi Brown foundation brushes are suitable for all powdery, creamy, and liquid formulas. These ultra-soft brushes feature short and tightly-packed bristles to help deliver the right amount of formula for a flawless and full-coverage look. In addition, it ensures uniform distribution of the product throughout the face. This brush is made of ultra-soft bristles that conceal imperfections, blemishes, and scars on the face. They are comfortable for gripping and do not shed their bristles or lose shape. Besides, synthetic hair does not irritate sensitive skin.
Foundation Brush Chanel
Chanel offers two varieties of foundation brushes. One caters to creamy and gel foundations, whereas the 2-in-1 foundation brush variety is ideal for powder and liquid products. Both these brush hairs are made of synthetic fiber and ensure full face coverage without leaving any streaks. Blending the foundation product is comfortable using light downward strokes. It is better to have one kind of stroke for the entire face. It is an ideal makeup accessory to give your skin a flawless and natural finish.
Foundation Brush Clinique
The Foundation Brush Clinique has a tapered head and thin handles making it convenient to hold and spread the foundation throughout the face uniformly. This brush has smooth synthetic hairs packed tightly together to blend all foundations. Clinique uses a unique anti-bacterial technology to ensure high hygiene levels. The tapered edges enable you to reach narrow areas of the face, like the hairline, mouth, eyes, and nose.
Foundation Brush Dior
Dior offers four types of foundation brushes, with its bristles designed explicitly at an angle to ensure a flawless foundation application procedure. These brushes have black wooden handles with metallic ferrules. Though the bristles are soft to allow easy application, users have reported some shedding issues. These makeup accessories work well with powder, creams, and liquids. However, the pricing of these brushes is an issue.
Foundation Brush Elf
The Foundation Brush Elf is ideal for liquid foundation as it ensures a soft and smooth appearance without wasting much product. The pricing is attractive, and so is the brush's performance. The exciting aspect of this foundation brush is that the accessory is vegan and cruelty-free. In addition, the uniquely shaped bristles allow applying the foundation in a circular motion, ensuring a flawless airbrushed look.
Foundation Brush Lancôme
The foundation brush Lancôme has clean synthetic bristles tightly packed at a perfect angle. The tapered edges make blending liquid foundations beautiful to ensure a uniform and natural appearance. Soft hairs with graduated tips are best for sensitive skin. The sturdy handle makes it easy to grip these makeup accessories and apply foundation comfortably.
Foundation Brush Mac
Mac offers a range of exciting foundation brush models suited for different foundations like powder and liquids. The flat, paddle-shaped bristles with round edges are excellent for fluid foundations, whereas the fluffy brushes suit powder applications more. In addition, these brushes have sturdy wooden handles and densely packed bristles, making them a superb makeup accessory for applying foundation.
Foundation Brush Mars
Foundation Brush Mars features a flat top and densely packed synthetic bristles to ensure high coverage and seamless blending. The dense bristles help pick the right product amount without wasting it. The delicate strands do not leave any strokes to ensure a flawless look. The high-quality wooden handles and metal ferrules give these brushes a convenient grip and deliver a perfect makeup performance.
Foundation Brush Maybelline
One of the best aspects of Maybelline foundation brushes is their affordability. They rank among the best on the market, with the softest satin bristles. These accessories work with all foundations, including liquid and cream-based products. In addition, the Maybelline brushes have a flat design to ensure precision and excellent coverage. The highlight of these makeup tools is that they distribute the products uniformly and offer an airbrushed finish.
Foundation Brush Mary Kay
The Marky Kay foundation brushes have tapered bristles to customize the coverage and ensure a flawless finish. Synthetic fibers are best for liquid-based products because they maintain their shape and do not expand when wet. The oval-shaped brushes are perfect for adjusting to your face contours, especially the areas around the eyes, mouth, nose, and hairline. In addition, the handle size allows you to exercise maximum control and have the perfect makeup.
Foundation Brush Real Techniques
One of the best features of the foundation brush Real Techniques is that they use synthetic hairs that do not soak up much of the product to offer excellent coverage. However, some users have reported the brushes leaving streaks of liquid foundation. However, the angled brushes are perfect for contouring. These brushes are sturdy as the hairs do not shed. In addition, they dry quickly after washing them.
Wrap it up
Foundation brushes can define your makeup and make you look gorgeous. Usually, these brushes have soft bristles compatible with powder, cream, and liquid foundations. Synthetic fibers are best suited for this job because they ensure uniform application and adjust with the face contours. We have discussed various foundation brush brands that should be helpful to consumers.